Gina's brother, Jeremy, is an animal lover and volunteers at the Valley Humane Society once a week where he helps take care of the animals. Last month he sent her a video of a dog that had just been taken in from Stockton and, needless to say, she fell in love with him at first sight. He looked very nervous and super sweet at the time. She could not get him out of her mind, so when the opportunity to rescue him presented itself, Gina and Shawn could not refuse.
Their new boy, Guido, is an elderly, 7-10 year old Whippet or Greyhound/Whippet mix. He has been adjusting to his new home and slowly coming out of his shell, a little bit. He, their boxer, Perla, and first rescue dog, Frankie, actually chased each other around the backyard a couple of days ago, so it's nice to see them getting used to each other and starting to play. We're hoping that he continues to blossom and happily lives out his remaining years with them. They now have their own version of a Three Dog Night!
Market Update
Gina was recently asked to speak at a round table discussion hosted by former assemblywoman, Catherine Baker, on the future of real estate and how COVID is impacting it. Here's a link to a recent article regarding the round table: Future of Real Estate.
A message from Gina:
It's been a year since the COVID outbreak and subsequent lockdowns. Shawn and I were in Maui last March when California announced the Stay at Home order, so we decided to extend our stay and at least ride out a portion of what was supposed to be a 2-week lockdown in paradise. During those extra 5-days, I never could have imagined the impact that COVID would eventually have on our market, our society and the entire world.
When we returned home from Maui it was like we were in a different world. The streets were empty, most businesses closed and the few people that we saw were wearing masks.
Fast forward 1-year and we are in the most competitive seller's market that I have experienced in my 26-year career. Working from home has become the norm, and as a result, many people are rethinking where they choose to live, as they no longer have to worry about being close to their offices. This has caused an exodus of people from the Silicon Valley, Peninsula and San Francisco markets in search of more affordable housing, great schools and an overall better quality of life.
The Tri-Valley has certainly been the beneficiary of this exodus. Almost all of the buyers for my listings are from out of the area and they are having to compete for a very limited number of homes for sale, which has led to most homes experiencing multiple offers and an explosive growth in property values. It is now commonplace to receive offers as high as $200,000 – $300,000 over asking price on homes in many price ranges. We are even seeing multiple offers on some homes in the upper end of the market above $3,000,000, although not to the extent of the lower and middle ranges.
Most economists that I have heard are predicting that this is going to continue through the remainder of the year. As long as our inventory levels remain extremely low, I don't anticipate any changes in the foreseeable future. It is a great time to be a seller, but very hard and frustrating to be a buyer.
Snapshot of current inventories of active homes as compared to March of 2020:
Pleasanton: 59 (-6) – Dublin: 50 (-3) – Danville: 72 (-25)
Alamo: 32 (+2) – Livermore: 69 (-17) – San Ramon: 65 (+1)
Rates continue to be at near historic lows, although they have been increasing steadily for the last 4-6 weeks, as many are concerned about inflation this year. These low rates have been a driver in the buyer demand that we are experiencing, so it is possible that rising rates could having a cooling effect if they reach a high enough level.
New Listing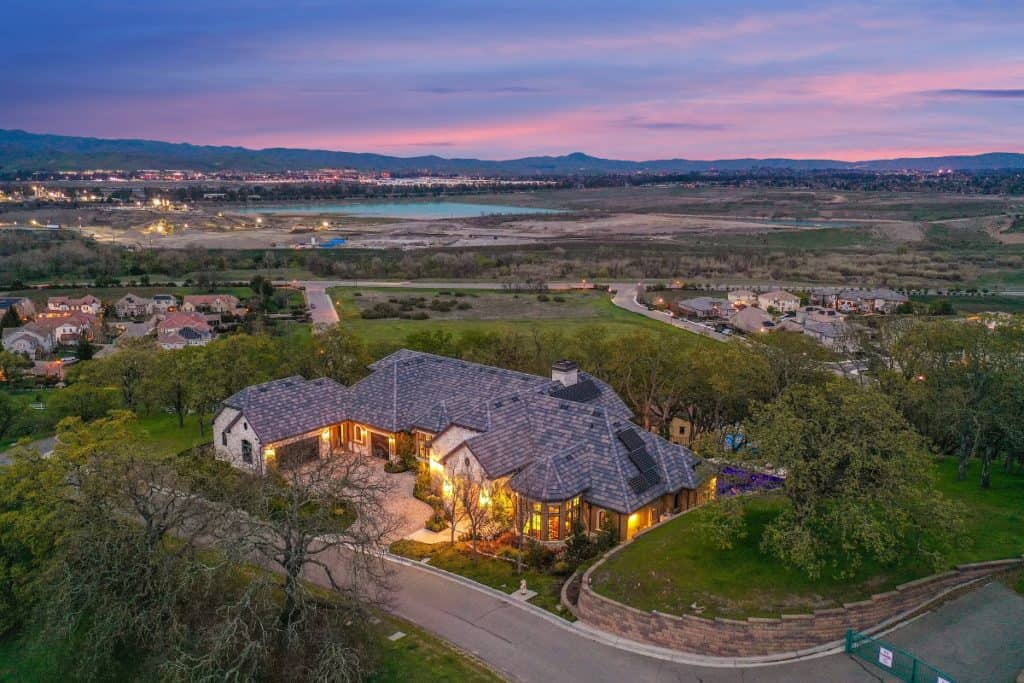 3 Winding Oaks Drive, Pleasanton
4 Bedrooms – 4.5 Bathrooms – 5,197 Square Feet – 1.97 Acre Lot
Magnificent hilltop French style estate home built in 2018 with extraordinary craftsmanship and superior quality finishes. Built for entertaining with an open floor plan, chef's kitchen with 3 islands and an extravagant outdoor living space with pool and spa.
(Click picture for additional pics, videos and 3D Tour)
Coming This Week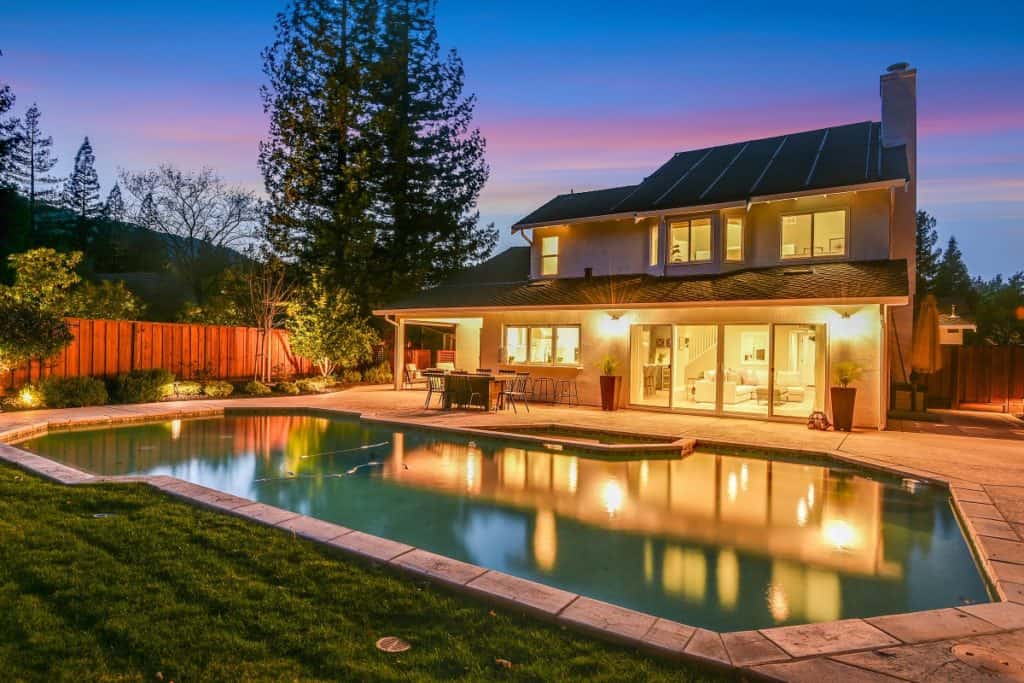 7852 Foothill Knolls Drive, Pleasanton
4 Bedrooms – 3 Bathrooms – 2,604 Square Feet – 12,180 Square Foot Lot
Gorgeous expanded and remodeled home in Foothill Knolls. Featuring a downstairs bedroom with full bathroom, a spectacular kitchen that overlooks the family room and a stunning outdoor living space with pool, spa and large grassy area.
(Click picture for additional pics and details)
A Modern Take on the For Sale Sign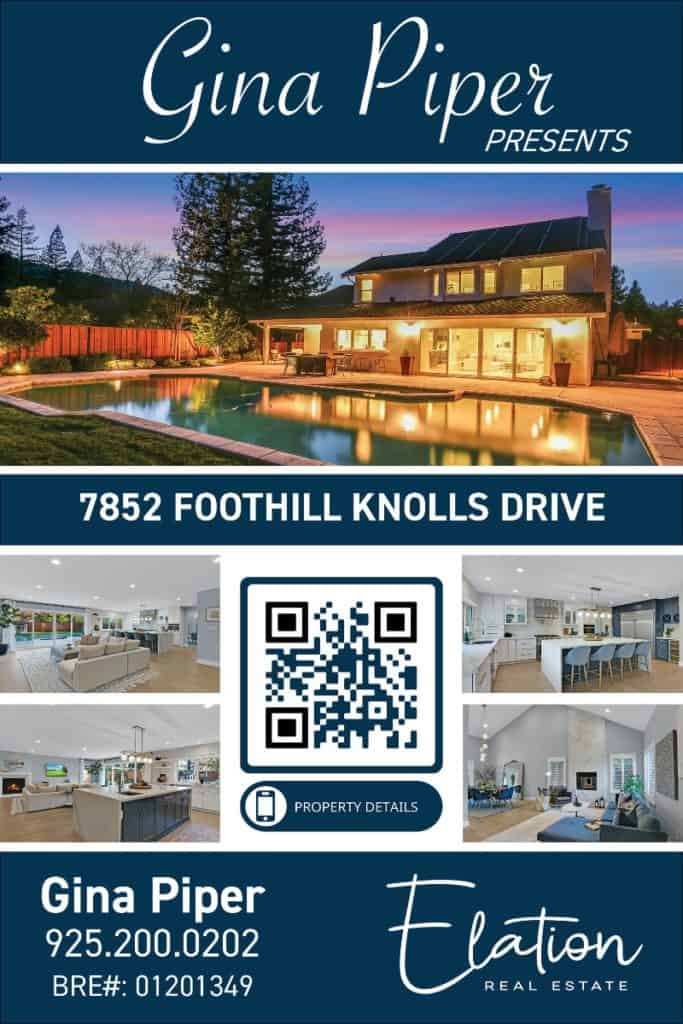 Not only has COVID changed the market, it's also made us rethink the way that we market homes and quickly provide as much information as possible to potential buyers. Due to the virus, we are no longer allowed to do open houses or even have flyers available. Given the circumstances, we decided to make custom for sale signs to replace the traditional style signs. These new signs provide interior and backyard photos of the home as well as an easy way to access all of the property details using a QR code, which takes them directly to the property's unique website. This is our most recent example. You can use your phone to scan the one to the left and see how easy it is.
.
As always, feel free to reach out to any one of us here at Elation Real Estate. You'll know where to find us… no compass needed!
All the best,