Viviana Cherman made two of the lists!
A little about Viviana
Let me tell you a little bit about Viviana first. Viviana has been in the Real Estate business for 8 years and is the co-founder of Elation Real Estate. Born and raised in Colombia, Viviana has been a Bay Area resident for over 20 years and a 14-year resident of Pleasanton. She's been married to her husband, Michael, for 10 years and has a beautiful Golden Retriever named Maximiliano, "Max".
Viviana supports charitable causes and organizations. She belongs to the best Rotary club in the world, Pleasanton North Rotary, and serves on their board. She was a Director of Events and VP of External Affairs for the San Francisco Chapter of ALPFA, a non-profit devoted to developing Latino leaders. She's competed in Ironman Triathlons and participated in Swim Across America events where she's helped raise thousands of dollars for the Challenged Athlete's Foundation and for organizations that support children with cancer. 
Leadership Positions
In addition to being a top producer and helping to run Elation Real Estate, a $200MM boutique brokerage, Viviana has also held many leadership positions at the Bay East Association of REALTORS®
Leadership Development Committee: 2017 – 2021

Strategic Planning Committee: 2018

Director At-Large: 2019 – 2022 

Leadership Evaluation & Selection Committee: 2020 – 2021 

Valley Real Estate Network Chair: 2020 – 2022

C.A.R

.-In-Training Program: 2022 
As of the date of this blog, June 12, 2022, Viviana is also running to be President-Elect for the 2023 year! You can visit her campaign site at www.voteforviviana.com. And fellow Realtors®, don't forget to exercise your right to vote.
The Recognition
For the second year in a row, Viviana has made the top 100 on two different lists. She placed in the Top 100 in Individual Volume across the country. And she placed in the top 100 overall in the North West Region. Quite an accomplishment, quite an honor, and we are super proud of her!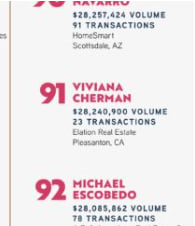 #91 in the Top 100 in Individual Volume in the US
#83 in the Top 100 overall in the Northwest Region of the US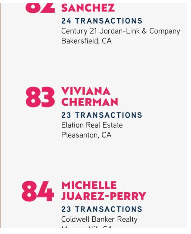 Congratulations to Viviana!!
---
That's The Scoop for now. As always, feel free to reach out to any one of us here at Elation Real Estate for all your real estate needs, in and around Pleasanton, Livermore, and the rest of the Tri-Valley. Or ask us how you can join our team! 
Elation Real Estate… Boutique Feel with World-Class Results!
Your Elation Real Estate Team
written by The Chermanator, blog master